Harry Potter & the Deathly Hallows Part I
Cast:
Directed by
David Yates
Produced by
David Heyman,David Barron,J. K. Rowling
Screenplay by
Steve Kloves
Based on
Harry Potter and the Deathly Hallows
by
J. K. Rowling
Daniel Radcliffe as Harry Potter
Rupert Grint as Ron Weasley
Emma Watson as Hermione Granger
Rest..
Helena Bonham Carter
as Bellatrix Lestrange
Robbie Coltrane
as Rubeus Hagrid
Warwick Davis
as Griphook
Tom Felton
as Draco Malfoy
Ralph Fiennes
as Lord Voldemort
Michael Gambon
as Albus Dumbledore
Brendan Gleeson
as Alastor 'Mad-Eye' Moody
John Hurt
as Garrick Ollivander
Rhys Ifans
as Xenophilius Lovegood
Jason Isaacs
as Lucius Malfoy
Bill Nighy
as Rufus Scrimgeour
Alan Rickman
as Severus Snape
Fiona Shaw
as Petunia Dursley
Richard Griffiths
as Vernon Dursley
Timothy Spall
as Peter Pettigrew
Imelda Staunton
as Dolores Umbridge
David Thewlis
as Remus Lupin
Bonnie Wright
as Ginny Weasley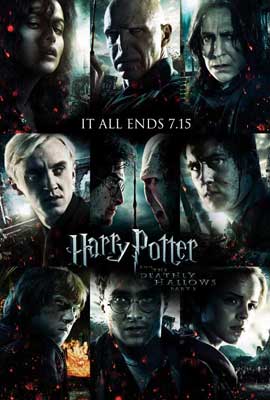 Plot:
Voldemort's power is growing stronger. He now has control over the Ministry of Magic and Hogwarts. Harry, Ron, and Hermione decide to finish Dumbledore's work and find the rest of the Horcruxes to defeat the Dark Lord. But little hope remains for the Trio, and the rest of the Wizard World, so everything they do must go as planned.
Summary:
The film begins with an entertaining "conference of evil" chaired by the nasally-challenged Voldemort (Ralph Fiennes), discussing how and where to snatch our hero, in which Voldemort's scornful gaze alights on the uneasy Lucius Malfoy (Jason Isaacs), depriving him of his wand,later Hermione (Emma Watson) damages Harry's and he crossly asks to use hers. Potter, played by Daniel Radcliffe – once as moon-faced and round as his specs, now rangy and wiry – must make what amounts to an escape across open country, accompanied by Hermione and Ron (Rupert Grint). Watson's Hermione is still very girlish and solemn, but Grint's Ron now looks adult, slightly grizzled and bulky. Grint's very grownup air of resignation to his second-in-command status is interesting. It is a long way from the silly face he was always having to pull in the first film.
Almost devoid of allies and weapons, the trio now have to destroy the Horcruxes, which enforce Voldemort's terrible power, and they must uncover the secret of the Deathly Hallows, a term the audience must wait until the end of the film to understand. Looking up "hallow" as a noun in the dictionary won't help. And when these three are on their own is that this film comes to life: especially in the eerie Forest of Dean or a gloomy Shaftesbury Avenue cafe in central London where they have a magic-wand shootout with two assassins.
The most striking moment comes when Ron is tormented by a paranoid, jealous fantasy of Hermione's passionate desire for Harry. It is quite a gamey scene. Something human and real is happening there, a sense of coming to the dramatic point, at last. Does Ron suspect in his heart that Hermione would prefer to play something other than Quidditch?
Review:
This movie though not my favorite, is still a good Harry Potter adaptation. It follows the book closely. We now know more about Horcruxes and Dumbledore's past and see the evil and gothic side to the Harry Potter saga for the first time. It's not a back to school film. Hell, I miss Hogwarts and those utterly amazing uniforms. But still to continue and reach the epic finale this movie is essential, you can not miss this. New terms and new characters are introduced.
That moment when Hermione "Obliviates" her parents, ahh that girl is magic! Emma Watson deserves high praise for her role. And we discover a force binding Harry and Voldemort together. This movie is basically about answers. A logical explanation to so many HP related things. Also I personally loved that scene with seven Harrys! Ha there are fun moments in even the darkest of Harry Potter movies. Voldemort and his puppets were being very nosy in this movie. (Pun intended). So Enjoy the HP ride cuz that's what we fans do!
My Overall Rating For One Half Of This Epic Final Is