A Walk to Remember
Cast :
Shane West as Landon Rollins Carter
Mandy Moore as Jamie Elizabeth Sullivan-Carter
Peter Coyote as Reverend Hegbert Sullivan
Daryl Hannah as Cynthia Carter
Lauren German as Belinda
Clayne Crawford as Dean
Al Thompson as Eric
Paz De La Huerta as Tracy
David Lee Smith as Dr. Carter
Jonathan Parks Jordan as Walker
Matt Lutz as Clay Gephardt
Plot:
"You have to promise you won't fall in love with me."
One of the most touching romantic movie ever, 'A walk to remember' is a tale of teenage love and promises which makes you believe that miracles do happen. It released and spreaded love in year 2002.
Adaptation of Nicholas Spark's out of this world novel this movie conveys a story of young and popular Landon Carter who never thought of falling in love with an introvert and Reverend Sullivan's daughter Jamie Sullivan. After playing a dangerous prank on his classmate, Landon is forced to spend time in various after-school activities, such as tutoring disadvantaged children and performing in the drama club's spring musical.
For the first time in her life Jamie approaches Landon and asks for his help for charity work while they are acting together in a school play.
Landon being the most popular boy in the bunch tries to avoid her company and makes fun of her by adding sarcastic comments. In answer to that Jamie refuses to help her with script and somehow he manages to learn it on his own.
During the play, Jamie astounds Landon and the entire audience with her beauty and voice. Landon kisses Jamie during the play, which was not in the script, and Landon tries to get close to Jamie, but she repeatedly rejects him. Soon thereafter, however, Landon's friends publicly humiliate Jamie by altering a photograph of her and placing her head on the body of a scantily clad woman. Landon angrily confronts his former friend, punching him and publicly siding with Jamie. Afterwards, Landon and Jamie begin a relationship in which Landon dedicates most of his time to her. He discovers that she has a wish list, and sets out to make all her ambitions come true, such as taking her to a state border so that she can stand on either side of the line and, thus, be in two places at once.
She warns Landon not to fall in love with her and finally tells him about her serious medical condition that she is suffering from terminal Leukemia and has no hope.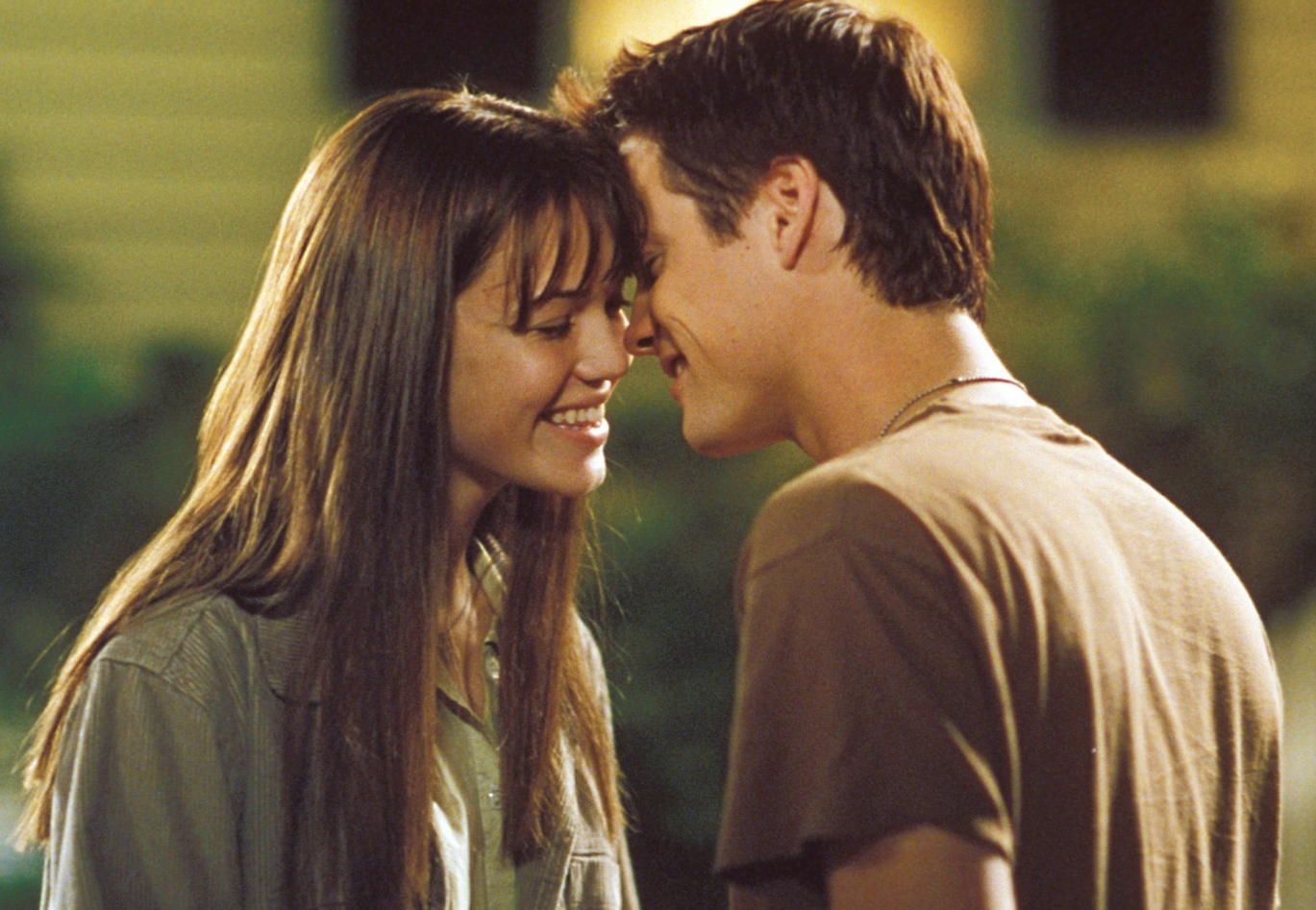 Her disease gets worse by the time and she collapses in her father's arm and is taken to hospital where Landon learns that his father is going to pay for her medical attention which will be given to her at her own home. He goes to his father and breaks down in tears and makes up with him after a very long time.
Jamie believes that Landon is an angel from Heaven sent down for her relief and thanks God in every condition. Landon however is sad and angry with God for taking away the only precious gift of his life, his Love. He goes on fulfilling Jamie's wishlist.
In the end he asks Reverend Sullivan to marry his daughter and he agrees. They are married in the same chapel as Jamie's parents where she makes a 'walk to remember' by walking down the aisle in a poor health but living the most precious moment of her short termed life.
After Jamie's death Landon spends his life just like Jamie wanted to. In the end when he says that Jamie never got his miracle, Reverend Sullivan tells him that he is her miracle.
"she did get her miracle, Landon.

Her miracle was you."
Review:
This is a kind of movie you can never express in a negative way. It won't only leave you tearful but also longing to see more of this charming couple.Another best feature of this movie is its sound. Mandy Moore has captivated many souls by singing 'Only Hope' the way only a true believer can.Although it's an old flick but the magic can never fade. It leaves you awestruck just Landon when he sees Jamie in school play costume blooming like a rose.
Last but never the least is the 'Walk'. You can actually feel that burden of Jamie's ill being on your heart as she takes step towards Landon and clutches your heart with a never ending feeling of true and unconditional love.
Just like me anyone who sees the movie will thank the person who recommended it.
But before you see it, prepare your hearts for a romance-full heart attack!!
"It was, I remembered thinking, the most difficult walk anyone ever had to make.
In every way, a walk to remember."
Performance Ratings:
Mandy Moore (Jamie Sullivan) :
Kind, wonderful, beautiful and gentle. For once you believe the girl on your screen is the real Jamie Sullivan and she is actually going to die!
Hats-off!
As for the songs; Mandy sang magic.
Shane West (Landon Carter) :
Shane West has done a commendable job with Landon's character summoning the 'bad-boy-falling-in-love' attitude!
Now as for the Overall rating:
Reviewed by : Adina Farid
My Facebook Page:
Follow me on GooglePlus :